Iron Buckles

Pictured are old stock of Small, Medium, and Large buckles.
Current stock of these buckles have a bevel on the outer edge, like the originals.
The Extra Large buckle (not pictured) has a bevel on the inner and outer edge.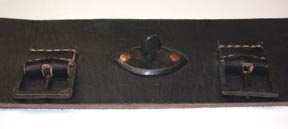 Roy@Najecki.com
(before calling or emailing me, please read the FAQ or Ordering Information page
because most of the questions I get are answered on those pages)

Copyright ©2017
This site is maintained by Debra
First launched 5-9-91.